At a time when the United States' Commander in Chief tacitly endorses racist groups, when he delights in name-calling against political opponents, blatantly lies in a public debate and television interviews, when political acrimony is such that those in highest office show no regard for public safety and hide the facts behind a wall of power, when common decency, honor, and respect seem to have become obsolete rather than values that guide our moral compass and define the American people, it should come as no shock to hear that, once again, wrong beats right in a battle for justice that some would describe as David vs. Goliath. I'm referring to the discrimination lawsuit filed in December 2017 by City College Adjunct Spanish Professors David Becerra and Antonio Jimenez against the San Diego Community College District.
As first reported by the San Diego Adjunct Faculty Association (SDAFA) on January 26, 2018 and subsequently in the Spring 2018 edition of the CPFA Journal, starting in 2014, numerous complaints of discrimination, abuse of power, and retaliation were filed by several part-time Spanish professors in the Languages Department at San Diego City College while under the tenure of former Department Chair Rosalinda Sandoval and former Division Dean Trudy Gerald. (Neither of these women holds these positions at present – Sandoval "voluntarily" stepped down as Chair and Gerald was mysteriously removed from her position with no explanations given). After exhausting all the appropriate grievance channels and procedures and sensing that the perfunctory "investigations" conducted by the District were keen on protecting Sandoval and Gerald, some of the aggrieved professors dropped their case for fear of retaliation, but three of them, Salvador Gonzalez, David Becerra, and Antonio Jimenez, remained steadfast on their quest for justice.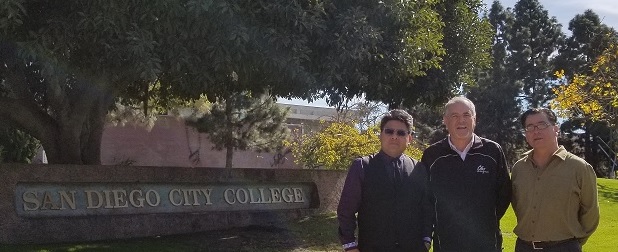 Gonzalez pursued a complaint with the Equal Employment Opportunity Commission (EEOC Case No. 488-2015-00193) in February 2015. Upon completion of an extensive investigation, the EEOC concluded in July 2019 that there was "reasonable cause to believe" that the District violated Title VII by subjecting Gonzalez to harassment based on race, color, and national origin, as well as retaliation. EEOC referred Gonzalez's case to the Department of Justice, which issued him a "right to sue" letter in January 2020. This finding was in direct contradiction to previous findings by the District's Human Resources investigator, Johanna Palkowitz, who reported finding nothing untoward in Sandoval's and Gerald's actions. The EEOC determination also challenged the ruling by the District's Board of Trustees.
In December 2017, Becerra and Jimenez filed a federal lawsuit (Case No. 17-CV-2489 BAS (MDD)) against San Diego Community College District (SDCCD).
While the avenues the three complainants chose in their quest for justice differed, both cases raised basically the same charges: discrimination based on race, age, and socioeconomic class, intimidation, intentional infliction of emotional distress, and abuse of power by Chair Sandoval. All of them charge Sandoval and her supervisor, Gerald, of colluding to "discipline" them through various forms of abuse and retaliatory class scheduling, or dismissal in Gonzalez's case, for exercising their basic civil rights.
Click Next page (below) to continue reading…