By Carolyn Kuimelis and Mary Ellen Flannery
Republished with permission of the National Education Association (NEA). Originally published 05/23/2023 at NEA Today.
The higher education system depends on the labor of adjuncts, yet these faculty remain underpaid and undervalued.
– Key Takeaways –
With low pay and little access to employer-provided benefits, contingent faculty are struggling to get essential healthcare and cover the rising cost of food and rent.
Non-tenure-track faculty who belong to unions fare better than those who don't. But even with a union, life as an adjunct can be grim.
The higher education system has become increasingly dependent on temporary labor: nearly 70% of U.S. faculty members held a contingent position in fall 2021, up from 47% in 1987.
It's been nearly a decade since Margaret Mary Vojtko's death became a rallying cry for exploited faculty. Vojtko, a longtime adjunct professor at Duquesne University, died on a street corner after suffering a cardiac arrest. Two weeks later, her lawyer published an opinion piece in the local paper, faulting the university for failing to help Vojtko in her later years, when she was struggling to afford her cancer treatment.
Part-time faculty across the country were enraged—and the discussion around Vojtko's death brought new attention to the working conditions of adjunct academics. Yet little has changed since her passing.
The horror stories of non-tenure-track faculty still abound in academia. And, as the higher education system becomes increasingly dependent on temporary labor (nearly 70% of U.S. faculty members held a contingent position in fall 2021, up from 47% in 1987, according to a report by AAUP), the problem is only becoming more urgent.
With low pay and little access to employer-provided benefits, contingent faculty struggle to get essential health care and cover the rising cost of food and rent. They are expected to teach with little institutional support, no job security, and limited access to basic resources, like laptops and office space.
Faculty who belong to unions fare better than those who don't: in their last contract, City University of New York adjuncts won a 71% increase in minimum pay. And the last Coalition of Academic Workforce survey found that unionized adjuncts are paid about 25 percent more than non-union adjuncts. But even with a union, life as an adjunct can be grim.
Despite the challenges they face, many instructors in contingent positions are exceptional educators: they have advanced degrees, care deeply about their students, and make enormous sacrifices to carve out time to meet with students face-to-face. Still, the higher education system treats them as disposable.
Here are some of their stories.
---
"IN A GOOD WEEK, I'M ONLY WORKING TWICE AS MUCH AS I'M PAID FOR." – JIM PEREZ
"I know adjuncts who are couch surfing. I know adjuncts who lived in their cars for a while. I know adjuncts who are barely making it and are teaching class using coffee shop Wi-Fi, on their phone," says Jim Perez, a part-time faculty member and union leader at the City Colleges of Chicago (CCC).
At the same time, their students are struggling, too. Over the years, Perez has taught students living in homeless shelters—with their own kids. "The shelters didn't provide childcare, so they're sitting in the back of my classroom with their strollers."
The job is more than teaching—it's role modeling, career counseling, mentoring, giving out practical advice. But adjuncts' working conditions don't take into account students' complex needs, says Perez. And he and his colleagues are barely compensated.
They don't get paid for grading. They don't get paid to plan lessons. "In a good week, between teaching and grading, I'm only working twice as much as I'm paid for. On a bad week, it's at least three times as much," says Perez.
The vast majority of CCC's part-time faculty are eligible for SNAP benefits, better known as food stamps. Meanwhile, the disrespect directed toward adjuncts by tenured colleagues and administrators makes it even worse. Take this, for example: Full-timers get their own keys to the staff bathroom. Adjunct faculty share one key "and it's on a big stick," says Perez.
---
"ARE THE STUDENTS GETTING A THINNED-OUT VERSION OF ME? ABSOLUTELY." – MARK ROCKWELL
Mark Rockwell isn't sleeping in his car. He has healthcare benefits (through his wife's job.) He even has a meager state pension plan. So, in no way is he saying that his experience as an adjunct faculty member is the worst out there. But here's the thing: It's bad enough that he's finally thinking he can't do it anymore.
Rockwell, who has a Ph.D. in education, works at two Chicago-area colleges. He teaches all morning at one, runs home to grab lunch, and then drives an hour to teach afternoons and evenings at the other, returning home around 10 pm. On weekends, he grades and plans for the week ahead.
"When I'm on the fourth or fifth class of the day, I feel like I'm shooting from the hip," he says. "Are the students getting a thinned-out version of me? Absolutely. I still think I'm giving them quality. But I don't think they're getting the best version of me."
The best version of Rockwell is extraordinary. He is a popular teacher who thinks hard about how to engage his students in deep discussions. And he loves it. He truly loves teaching. But it's exhausting. And, on a good year, he earns about $35,000.
"My students can't believe how little I'm paid!" The 55-year-old father worries about paying the bills, and the precarity of his finances is wearing him down. "I love teaching and I've been fortunate to do the thing I love and am gifted for," he says. "But I'm looking for an alternative job. I will quit the thing I love to make money."
---
"THERE ARE MANY DAYS WHEN I DON'T KNOW WHAT DAY OF THE WEEK IT IS!" – VIVIAN ZIMMERMAN
An erasable whiteboard on Vivian Zimmerman's refrigerator spells out, in multi-colored Expo pens, where she needs to be every hour of the week.
First, there are the classes she teaches at Prairie State University, where she's been an adjunct instructor for 28 years. Then, there's the classes taught at another Chicagoland college. But that's not all! Zimmerman also coordinates activities at an assisted living facility; teaches English to factory workers; plans private events, like weddings and bar mitzvahs; tutors in Hebrew; and teaches mah-jongg at the library.
This dizzying array of part-time gigs helps Zimmerman to pay the bills, but it also taxes her mental health. "There are many days when I don't know what day of the week it is!" she says. And still, Zimmerman knows she has it better than many other adjuncts.
She helped negotiate the first union contract at Prairie State decades ago (it was the first of its kind in Illinois), and she and her colleagues won the right to strike, to file grievances, to get paid sick days and pay for departmental meetings.
They also get paid for classes that are canceled within two weeks of their start dates. Additionally, at age 70, Zimmerman has Medicare.
"My younger colleagues have it much worse. They're looking at living with two or three people, getting food stamps or going to places where they can get free food. I know it can be embarrassing for them."
---
"I REALIZED I'D BEEN SOLD A BILL OF GOODS. I'M NEVER GOING TO GET HIRED." – JOHN MARTIN
Nearly 30 years ago, John Martin first began teaching as an adjunct faculty member, "hoping it would lead to a full-time job," he recalls. It never has—and, by now, he realizes it never will. Sometime in the last century, "I realized I'd been sold a bill of goods. I'm never going to get hired," he says.
But he still loves teaching history to college students and so, he has persisted as an adjunct at two California community colleges. One semester a few years ago, Martin taught nine classes: "It was the most money I ever made in my life." The next semester? He taught two.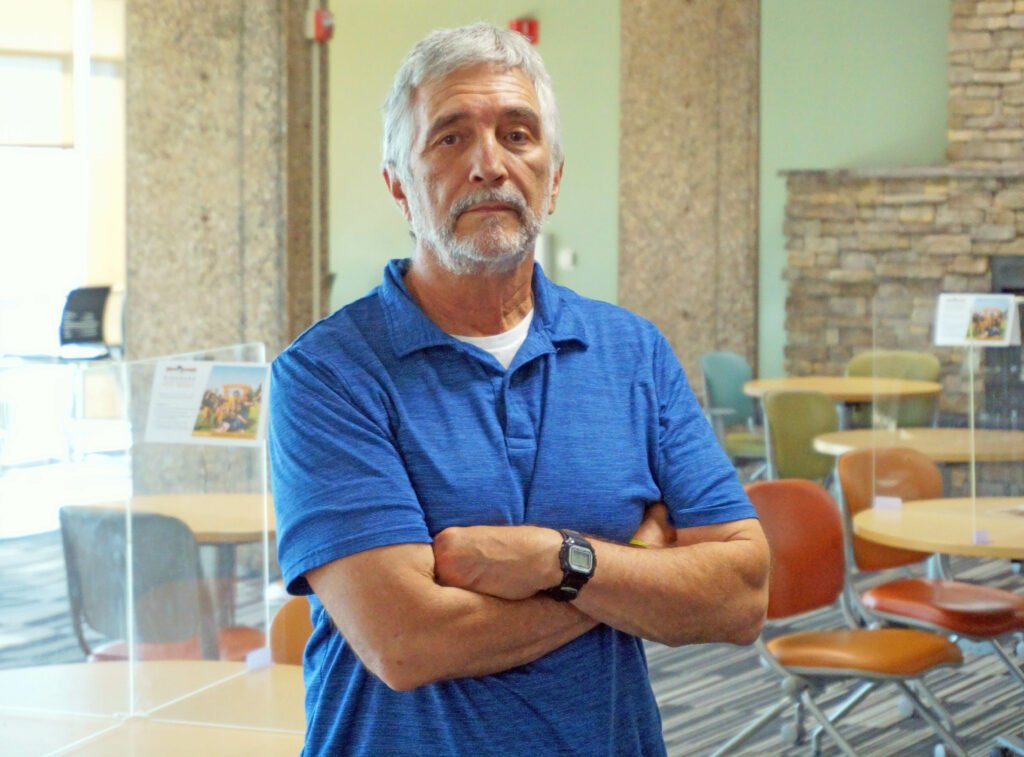 Job security is a huge issue for contingent faculty members. Martin says he never knows how many classes he'll get assigned from semester to semester, or whether they might get canceled or reassigned to a full-time faculty member days before the semester begins.
The other challenge, of course, is pay. Teach two classes a semester at some California community colleges and get paid $5,000. That's $15,000 a year with summer classes—and summer classes rarely go to adjuncts.
Today, Martin, who is chair of the California Part-time Faculty Association, as well as a union leader, is a plaintiff in a suit filed against the state by adjuncts across California, demanding compensation for the many hours they spend preparing for classes and grading student work.
---
"I WAS A SINGLE MOTHER AND I WAS DROWNING. BUT I DIDN'T HAVE A CHOICE." – NICOLE HANSEN-RAYES
Nicole Hansen-Rayes remembers when she was a "super adjunct." It was a little like being a superhero—flying back and forth across the city of Chicago to get a much-needed job done.
Back then, Hansen-Rayes was teaching psychology on multiple campuses of the City Colleges of Chicago, as well as other institutions, trying to cobble together a living wage.
"I was a single mother and I was drowning. But I didn't have a choice. I just kept hustling," she recalls. "Talk about a minimum-wage Ph.D. That was me! I just kept thinking, 'something is going to pan out, something is going to pan out…'"
Today, Hansen-Rayes works as an administrator at the University of Chicago while continuing to teach part-time at Richard J. Daley, where she also is a proud union member. Her advice to other adjuncts? "Cultivate relationships. Do good work. Care about your students."
---
"WE'RE ALL THERE TEACHING THE SAME STUDENTS. AND WE ALL WANT THEM TO SUCCEED." – DEBORAH ROGERS-JAYE
Deborah Rogers-Jaye considers herself lucky. She's been teaching childhood development courses as an adjunct faculty member for over 20 years—but that hasn't been her only gig.
Early in her career when she was supporting three kids, she worked full-time as a director at the Boys and Girls Club of Chicago, and then as a consultant for Chicago Public Schools—all while teaching classes in the evenings and on Saturdays.
Most of her colleagues would prefer to focus all of their energy on teaching, but working multiple jobs is the only way you can survive as an adjunct, she says. "You can't make ends meet teaching one or two courses."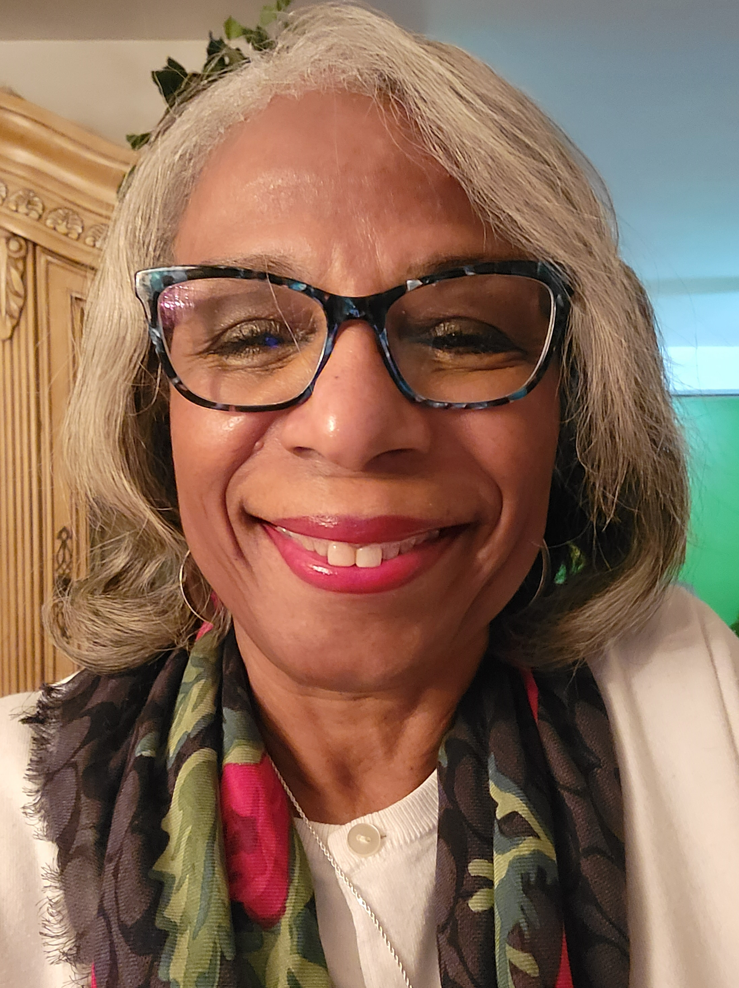 She's grateful that her jobs have been related to her career. She knows a lot of adjuncts who've had had to pick up extra work as baristas or servers. Others try to pick up courses at several different colleges. But bouncing from campus to campus makes it difficult to form relationships within any one department, she says, making it even harder to land a full-time job—or feel like you're a respected part of the team.
She also considers herself lucky to work in a department that gives her a seat at the table. As a union rep, she knows this isn't most adjuncts' experience. There's no magic wand to fix the myriad of challenges adjuncts face, she acknowledges, but she says changing the culture within departments so adjuncts are valued and understood is an important place to start. "We're all there teaching the same students," she says. "And we all want them to succeed."
---
"IF I HAD TO HAVE AN EXTENDED STAY IN A HOSPITAL, I COULD BE WIPED OUT FINANCIALLY." – WALTER HARPER
For Walter Harper, life as an adjunct professor is a balancing act. Gasoline is expensive and money is tight, so he only uses his car to get to and from campus. To get everywhere else, he takes the bus or walks. The commute from his home in Providence, Rhode Island, to Bridgewater State University in Massachusetts, where he teaches courses in anthropology, is about 40 miles.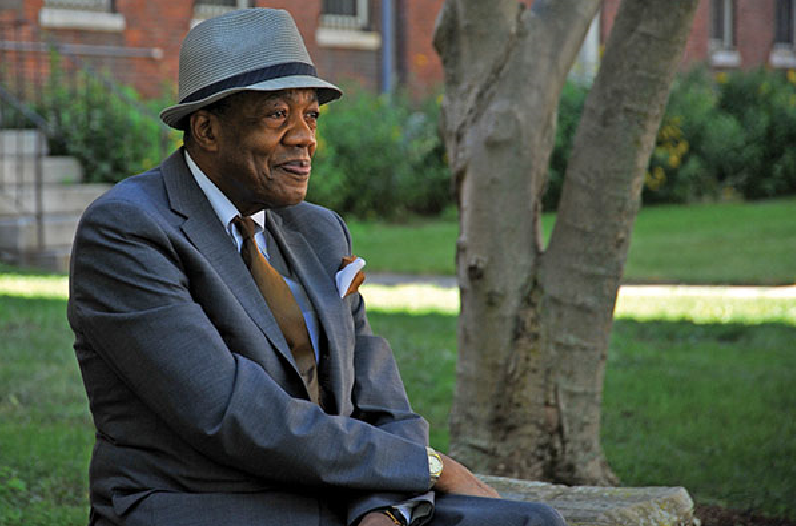 Providence isn't cheap, but it's more affordable than Boston, so the commute is worth it—that is, if he can stack his classes in the morning and get out before rush hour, when traffic turns the usual 45-minute drive into a three-hour ordeal.
When it comes to health insurance, Medicare is keeping him afloat for now, but it doesn't cover everything. "If I had to have an extended stay in a hospital, I could be wiped out financially," he says. If he had better pay, more job security, and health insurance, he wouldn't have to live his life "semester to semester."
If we want to make quality public institutions available to young people, he says, "every faculty member who works there should have an adequate wage. They should have health insurance and more resources so they can be the wonderful professor that every student deserves."
---
"IT'S BEEN A BATTLE TO GET ANY KIND OF SALARY INCREASES… AND FORGET HEALTHCARE—THERE'S NO WAY." – CHARMIAN TASHJIAN
As president of the adjunct faculty association at Harper College for over 10 years, Charmian Tashjian has seen firsthand how life as a contingent faculty member takes its toll.
"It's been a battle to get recognition and to get any kind of salary increases," she says. "And forget healthcare—there's no way."
Tashjian, who teaches music and humanities courses at two Illinois community colleges, has had to say goodbye to colleagues who've left the profession because they can't survive on such a small paycheck.
She says it's difficult for the adjuncts to build community, too—none have offices, and the flat rate they get paid to teach a course doesn't include office hours. Many of them have to rush out the door after their class is over, either to another campus to teach, or to a different part-time job.
It's also been a goal of hers to fight the unemployment compensation rulings in Illinois that prevent most adjuncts from receiving unemployment during the winter and summer breaks, when course offerings are slim and mostly go to full-time faculty.
---
Read the comments at NEA Today